Roland Noise Eater Pedals – Impression
Roland released 5 new electronic drum noise reduction products.
Kick drum impact noise is the major problem for electronic drummers that live in apartments. The pedal produces unwanted low-frequency noise that travels through the floor to downstairs neighbours.
Until now there have only been DIY solutions and the Roland NE-10 and NE-1 Noise Eaters. 
The DIY solutions can be costly (depending on the material prices) or ineffective if done incorrectly and come along with some building effort regardless. 
The regular Roland Noise Eaters do their job and reduce impact significantly (75%). Until now, they have been the best solution on the market so far, but they are also incredibly expensive and rather large in size.
A double pedal setup requires 3x Roland NE-10 and at least 4x NE-1 Noise Eaters, which cost around 400€ (Without pedals and stands). Combine these with a decent double pedal and a regular hi-hat stand and you end up paying 800-1000€.
And apart from being broke, you have another problem, namely the Roland NE-10 boards take up too much floor space. There is almost no space left for a regular snare stand in case you have a double pedal setup.
On the other hand, you are at least free to combine these Noise Eaters with kick pedals and hi-hat stands of your choice. And we all know that drum pedal preferences are very personal and drummers are picky about their pedal.
However, Roland came up with an all in alternative solution. They combined the pedal with the Noise Eater. The result is a compact clean looking single & double pedal and a matching hi-hat stand that does not require additional floor space. 
Roland RDH-100 – Single Pedal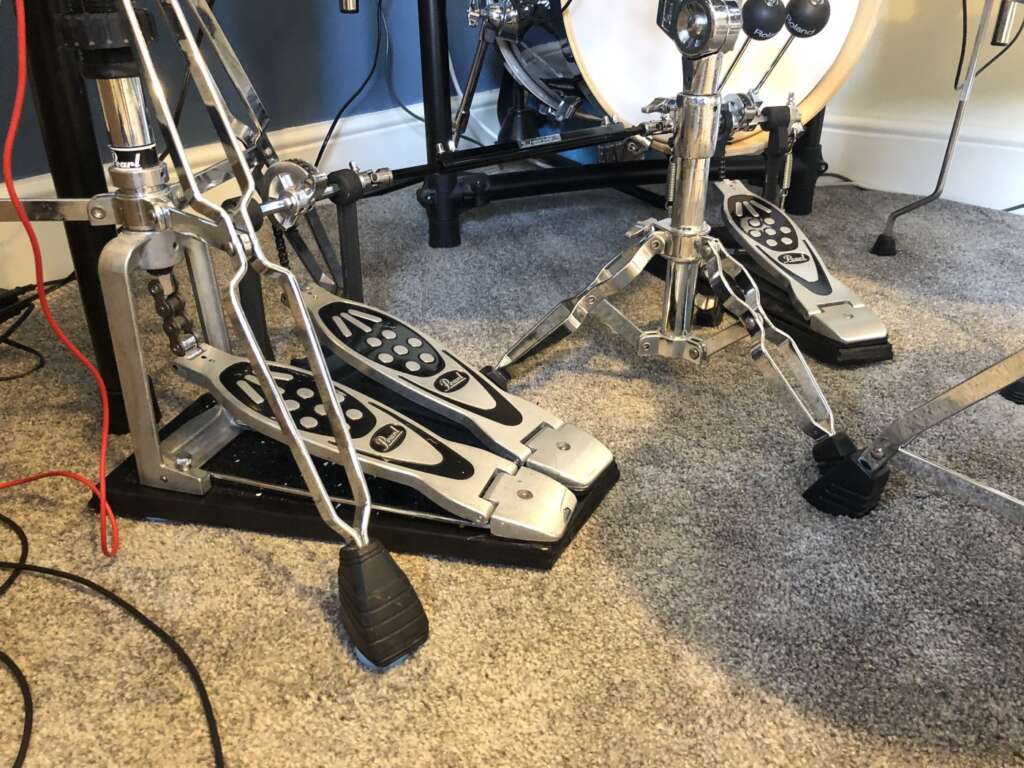 The Roland RDH-100 is a regular single pedal with the implemented Noise Eater. It has all standard adjustment options the average drummer requires. The quality seems to be ok, it has a double chain drive and a plain pedal board.
What I don't like about both pedals is the squared screw to attach the pedal. Drum pedals need a wingnut there, I do not want to rely on a drum key to attach a drum pedal. The beater-head-angle of the beater included can now be adjusted. The pedal retails for 150€, which is more than fair price.
But you are not sorted by only buying this pedal, you still need to buy at least two additional Roland NE-1 Noise Eaters for your bass drum legs. If you have a Roland KD-120, you will even need 4 of them. So you have to plan in another 50-100€ for this.
If you use a Roland KD-9, you will use Roland's new attachable bumpers (See them in this video). They are basically Roland NE-1's that are attached to the spiky screw of the Roland KD-9 pedal. Ergo, this piece has an M6 winding and can even be applied to the old Roland KD-8 pedals and in general to every standard M6 pad screw. 
Roland RDH-200 – Double Pedal
The Roland RDH-200 is the double pedal version of the RDH-100. An identical master pedal with a regular double beater mechanic. My only concern here is the drive shaft. So many high-end double pedals come with a bad quality drive shaft. Not even DW could'nt make a good drive shaft in the 700€ price range. The question is: Can Roland make one at a price point of 300€?
Both, the single and double pedal promise a noise reduction of 75%
Roland RDH-120 Hi-hat Stand
To complete the series, Roland released a matching hi-hat stand called Roland RDH-120. The first hi-hat stand with integrated Noise Eaters. The smartest feature of this stand, is the 2 leg setup, making it suitable for "double pedal use".
However, it is not clear if the feet of the 2 legs isolate as well or if you need to buy 2 additional Roland NE-1 for them. If that would be the case, we have to add on another 50 bugs to the RDH-120 hi-hat stands price of 160€.
Roland claims this stand is "built to the same standards of quality and durability that the company's instruments are famous for."
Let's just assume this is true and that the spring is strong enough to deal with the heavy Roland VH-11 cymbal. In this case, everyone would be happy.
However, my overall impression is that this stand is at home in the entry level gear segment. The adjusting mechanism is made out of plastic and the other components look like the typical budget Pearl or Tama hi-hat stands. But I do not want to complain too much, especially at this price point.
Noise Reduction: 50% (Probably because of the rubber feet)
Roland KDB-200 – Kick Drum Beater
Roland has recognized the demand for Sound Isolation Beaters. R-DRUMS does not make them anymore and drum-tec's soft beater is more of a compromise since it wears too fast. Roland came up with their own version of a soft beater, promising a great rebound and additional sound isolation. It is compatible with all kinds of single and double pedals.
This beater retails for 13.25 € according to Gear4music, which is a fair price if it is as durable as Roland promises. 
Attachable Bumpers
The new Roland pedals do only work with Kick pads like the Roland KD-9 if you can attach something to the spike screws. So Roland came up with these "Attachable Bumpers" that work like a Roland NE-1 but can get screwed onto the Spiky screws of the KD-9.
I think this is a much better solution than the NE-1 cups, as they have to be replaced and adjusted all the time. Since the kick pad moves. However, Roland did not state if you can buy these parts separately or if they come with the Roland KDH – kick pedals.
Roland RDH Line vs Roland Noise Eaters
A standard setup like this requires the RDH-100 (150€) and the RDH-120 hi-hat stand (160€) + 4x Roland NE-1 cups (100€): 410-450€
A similar pedal and hi-hat stand of the same quality as the new Roland hardware cost at least 250€ + 2x Roland NE-10 (200€) and 4x Roland NE-1 (100€): 550-600€.
There you can see that the new RDH Noise Eater Pedals are cheaper than the regular NE Noise Eaters.
BTW: If you have a hi-hat control pedal, you will still need to buy a regular NE-10 Noise Eater.
Who should buy the Roland RDH pedals?
Let's face it, the pedals and the stand are nothing special. They are a regular entry/mid-level drum hardware products.
Everyone that does not already have good drum pedal or a decent hi-hat stand will save some money by buying the Roland RDH line. If you are about to buy an electronic drum kit and you know that noise will be an issue, just buy it with these pedals instead of spending extra cash on expensive hardware and Noise Eaters individual. But keep in mind that you limit yourself to the Roland pedals/hi-hat stand mechanics.
If you already own good drum pedals, you should still go with the Roland NE-10 Noise Eater boards.
Especially advanced drummers have their preferences with kick drum- and hi-hat pedals. Me for example, I do not want to be bound to Roland's specific pedals, I rather want to use a pedal of my choice and combine it with the regular Noise Eaters, even though it takes up floor space and is more expensive.
Conclusion:
The Roland RDH Line is perfect for beginners and drummers who do not already have a hi-hat stand and drum pedal. Advanced players should not limit themselves to the mechanic of Roland hardware.